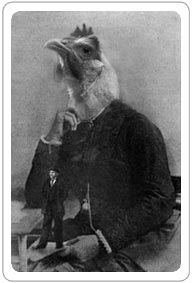 RAPID RABBIT — BESCHLEUNIGTE BILDWELTEN
Programmreihe der FRISE
in Zusammenarbeit mit
Ursula Panhans-Bühler
Eine Standortbestimmung
in Umbruchzeiten
---
30 Wochen Veranstaltungen
Das Programm 2011
in 5 Blöcken zum Ausklappen
Bilder, Lectures,
Beschreibungen, Links.
---
RABBIT'S TRAIL
Hase & Igel

Schlange & Löwe

Maus & Elefant

Schweine & Weltall

Herr & Huhn

HERR & HUHN | MITTWOCH 16. NOVEMBER: PERFORMANCE
Achim Lengerer: Little Body Beating Heart REHEARSALS WITH SALLY.
Performance with Sally Musleh Jaber
Do you remember, Sally? Must be three years since I wrote this for the first show in Belgium. The work was very different then, it even had a different title (and numerous titles since then, sorry for that!). Somehow I don't think we should use the text for the performance in Hamburg?
Or what do you think? See you soon for the rehearsals ... Achim.
"When we were little, on all fours in the gardens, we all had time. The rain wets the edge of the fountain; I sit in the damp grass of the garden ... slowly towards the left, my head turns slowly forward, slowly towards the right. Trust. Beginning. For you, telling the story through me. That's the point; the story should flow through you, halting, stumbling, racing, like a moment of incidental memory into which you fall, as into a timeless place, with your arms wide open. A movement without a real place, a movement that takes place in the body, in me, but is not located biologically. Man, boy, woman, girl. Child - who cares?"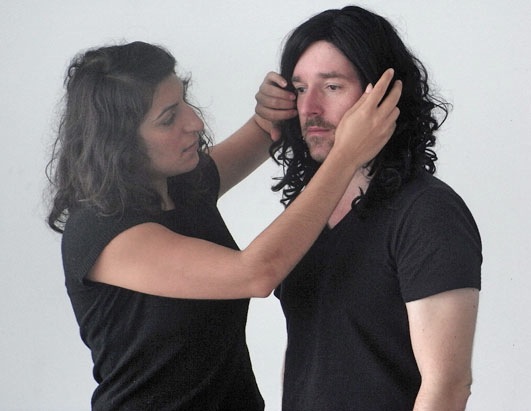 Achim Lengerer is an artist working in Berlin and Amsterdam. He deals with questions of language, which he realizes in performances, installations and publications. He is the founder of several collaborative projects, such as freitagksküche frankfurt/berlin and voiceoverhead (with Dani Gal). Since 2009 he has been running the traveling exhibition space and publishing house Scriptings, founded in Amsterdam. Scriptings functions as a discursive platform, building on and running parallel to Lengerer's solo projects. Artists, writers, graphic designers, performers, and publishers – all those who make use of "script" and "text" formats in their respective production processes – are invited to take part in Scriptings. Lengerer is currently working on a publication and performance in multiple parts called Little Body Beating Heart* in which he refers to Francois Truffaut's movie L'Enfant Sauvage from the year 1969.


gefördert von der Kulturbehörde Hamburg und von der Stiftung Kunstfonds
*Little Body Beating Heart is kindly supported by
Künstlerhaus Büchsenhausen, Innsbruck; ORF Kunstradio, Wien; Goethe-Institut/CNEAI, Paris; Kulturförderung Lichtenberg, Berlin, and Magazin Kunstverein Harburger Bahnhof, Hamburg.