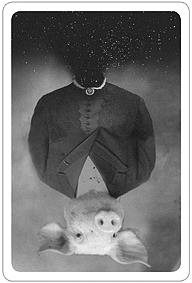 RAPID RABBIT — BESCHLEUNIGTE BILDWELTEN
Programmreihe der FRISE
in Zusammenarbeit mit
Ursula Panhans-Bühler
Eine Standortbestimmung
in Umbruchzeiten
---
30 Wochen Veranstaltungen
Das Programm 2011
in 5 Blöcken zum Ausklappen
Bilder, Lectures,
Beschreibungen, Links.
---
RABBIT'S TRAIL
Hase & Igel

Schlange & Löwe

Maus & Elefant

Schweine & Weltall

Herr & Huhn

SCHWEINE & WELTALL | MITTWOCH 28. SEPTEMBER: REBOOT
Film Night – Animation und Games
In the infamous Rapid Rabbit Reboot we go from war to games and videos and keep everything in between. Part of the question we asked ourselves in shaping this block was "What is real and what is merely a fantastic facsimile?" and sometimes there were startling discoveries. Of course there are the lurid
» crush videos
, requested destruction of a few of your favorite things, by way of red high-heels and fishnets. Another phenomenon are the viral videos that are sometimes mistaken out in the wild for
» home-grown un-sponsored clips
. Later they are found out to be fabricated and imitated. Which then also brings us to the flip side of
» Syria
, where the idea of fabrication is beyond unspeakable, but could it have been exaggeration? What's honest and what's propaganda?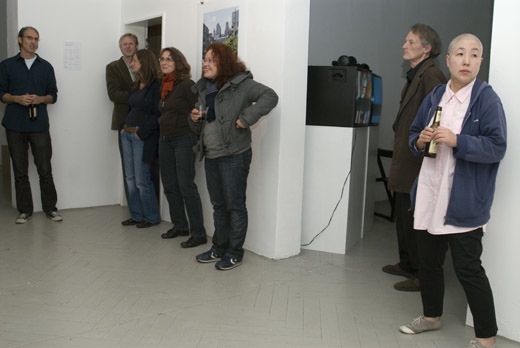 Reboot Opening
Also to be seen:
» Lego
and
» Playmobil
pieces – different battles and wars and even a western scene.
Music videos with game-themes were running on one screen. And
» Red vs. Blue
, a web series, shot entirely inside of a 3D computer game was on another (Machinima).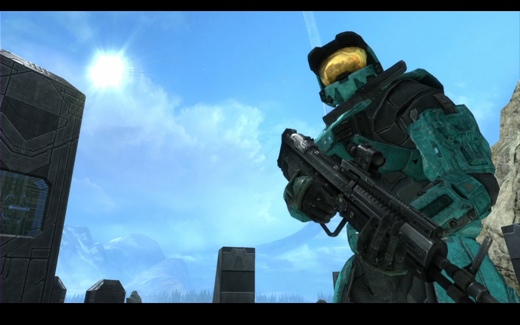 Red vs. Blue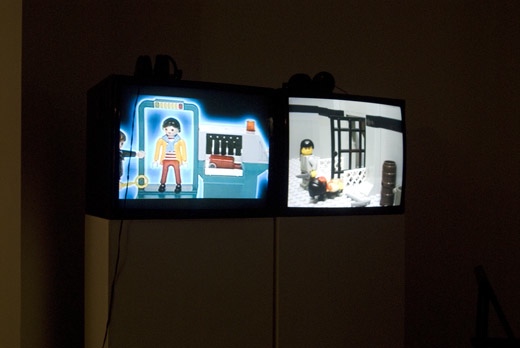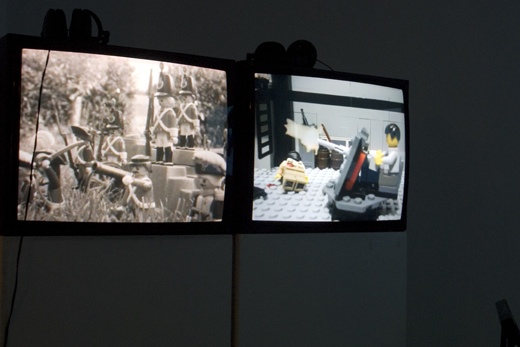 "Playmobil vs. Lego" – In der Ausstellung